You've been patient and now it's finally here.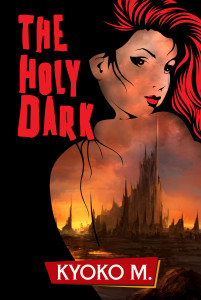 Sarcastic demon-slayer extraordinaire Jordan Amador has been locked in a year-long struggle to hunt down the thirty silver coins paid to Judas Iscariot. The mere touch of these coins is enough to kill any angel. Jordan's demonic opposition grows more desperate with each coin found, so they call on the ultimate reinforcement: Moloch, the Archdemon of War. Moloch puts out a contract on Jordan as well as her estranged husband, the Archangel Michael. Now Jordan and Michael will have to find a way to work together to survive against impossible odds and stop Moloch's plan, or else he'll wage a war that will wipe out the human race.
The Holy Dark will hit shelves April 24, 2015.
Please spread the word! Kyoko